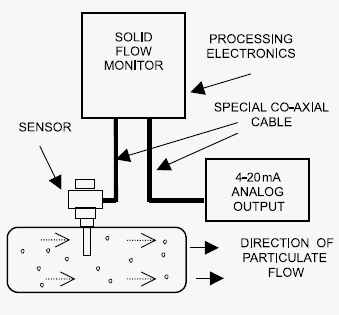 MOST EFFECTIVE & ADVANCED TECHNIQUE FOR
A) STACK / E.S.P. EMISSION MONITORING for POLLUTION CONTROL & COMPLIANCE WITH POLLUTION CONTROL BOARD NORMS
B) CYCLONE OVERFLOW DETECTION
C) FLOW RATE MONITORING & CONTROL, resulting in efficient production and smoother flow / storage of material.
In all Process Industries and Thermal Power Stations, frequent problems are encountered due to
Failure of flow of solids through hoppers / bins / silos / chutes / process pipes or ductings;
Emission of fine solids at levels higher than that permitted by pollution control norms / health and safety standards;
Product losses due to broken / torn filter bags;
Inefficient operations of E.S.P.s, Filter Bag Houses etc.
In all the above applications, flow measurement of solids is imperatively required, however the same cannot be implemented in the absence of a reliable measuring device. The Solids Flow Monitor is a unique device which can solve all of the above problems at an extremely economical cost.
These equipments are being extensively used in the Pharmaceutical, Chemical, Fertiliser, Petrochemical, Metal Processing, Cement, Thermal Power Generation & several other process industries since last several years. All user companies are thoroughly satisfied with the benefits they are achieving by installing Solids Flow Monitors in their systems. Several Machinery Manufacturers too appreciate the utility and importance of this product and have made our instruments a standard feature in their supplies.
The Solids Flow Monitor can be used in any industry involved in the processing of powdered solid material like drying, conveying, additive feed flow monitoring etc. It can also be configured to monitor effective dust removal from dusty environments by monitoring the exhaust duct. It can also monitor the dust emission from stacks. The solid particulate flow rate can thus be measured & displayed in ranges of mg/Nm3/sec to hundreds of tons per hour, as required. A cumulative or totalized display value can also be provided, if required.
The Broken Bag Detector is highly sensitive and reliable. It consists of a Sensor with shielded cable and an Electronic Control Unit. The Sensor is a 316 stainless steel rod with Teflon Insulator. The Sensor is installed in the duct of the FBD as shown in Figure 3.
The Solids Flow Monitor is highly sensitive and reliable. It consists of a sensor with shielded cable and an Electronic Control Unit. The sensor is a 316 stainless steel rod with Teflon Insulator. The sensor is installed in the duct where the flow of particles is to be monitored / measured, as shown in Figure 1. As the product / particles flow in the duct and strike the sensor, an analog electric signal is generated, which is directly proportional to the mass flow of the colliding solid particles. This signal is then conditioned, amplified & processed through sophisticated electronic circuitry.
A FEW TYPICAL APPLICATIONS ARE OUTLINED BELOW
Solids Flow Monitors are available in several models, catering to different applications & industries.
1. Stack / E.S.P. Monitoring for Pollution / Emission Monitoring In industries like Cement, Petrochemicals, Thermal Power Stations, Metal Processing etc., where Stacks / Bag Houses / E.S.P.s are used, the Solids Flow Monitor can be used to monitor the level of emissions. An analog and / or digital output is provided which will indicate the solid particulate flow rate and the emission levels.
2. Cyclone Overflow Detector (C O D) with analog 4/20mA output In applications where cyclones are used, either for product collection or to prevent pollutants from escaping into the outer atmosphere, problems can occur due to build up of material on the sides which causes a decrease in cyclone efficiency. This can lead to valuable product loss or atmospheric contamination depending on the applications.
Using the Solids Flow Monitor has the following advantages :
The efficiency of the cyclone can be monitored on a continuous basis.
Can prevent product loss / atmospheric pollution by giving an alarm or initiating suitable action like tripping / stopping the process if the preset / normal limit is exceeded.
Provides an early warning of future problems, if any unexplained increase in dust level is noticed.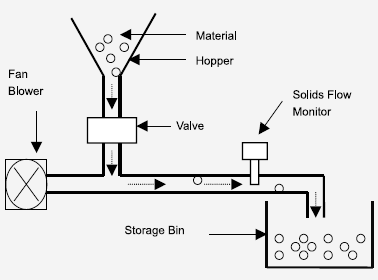 3. Flow Rate Monitoring & Control, resulting in efficient production and smoother flow / storage of material.
Stops addition of material to conveying line (by switching off Rotary Airlock Valve etc).
Serves as an early warning system in case flow rate falls below normal.
System efficiency can be kept high by monitoring flow rate & thus optimizing power requirements.
Facilitates quick decision making when models with flow rate display in appropriate units are used.
The productivity can be monitored for each batch when the model with totaliser is used.
The system can be configured to stop the process once the required preset value of solid material has been conveyed / added.
Enhances product quality by ensuring correct flow in additive blending operations which may involve additives or mixing of powder at specific rates.
The Solids Flow Monitor is also used for other applications like monitoring the flow of materials from hoppers / silos / bins / any type of vessel to the downstream equipment & giving an alarm in the event of failure / stoppage of the flows.
The Solids Flow Monitor has several inherent advantages
The only device based upon direct measurement of quantity of solids / particulates.
Price wise it is the most economical device.
It has no moving parts & thus, it is very versatile, robust & maintenance free.
Prevents atmospheric contamination and helps ensure compliance with Pollution Control Board norms for emission and exhaust.
Permits online monitoring of the Filter Bag House / Stack / E.S.P. performance.
Helps prevent costly drug losses and also saves time & labour required for subsequent cleaning operations.
With a small investment, the device can help prevent production loss, down time & penalties arising out of atmospheric contamination.
AREAS OF APPLICATIONS & ADVANTAGES
Solids Flow Monitor is the most efficient and economical instrument for:
Monitoring efficiency of all types of powder / dust filters.
Mass flow measurements of solids in process pipes / ducts.
Minimising costly product losses due to excessive emission from process / machinery which could occur due to leakages, breakages of seals, process disturbances.
Monitoring of blockage / arching of solids in hopper / bins / silos / chutes.
Monitoring of electro-filter (ESPs) efficiency.
Measuring and monitoring pollution levels in stacks / vents / chimneys.
Saving of electrical energy for ESPs & its fans, dust filters / bag filters and their fans.
Monitoring of flow / no flow conditions in screw conveyors, air slides, bucket elevators, belt conveyors etc.,
Monitoring of factory environments from viewpoint of human health and safety, like in case of drug / paint / special chemical manufacturing units.