MOST EFFECTIVE & ADVANCED TECHNIQUE FOR STACK / DUCT / CHIMNEY / E.S.P. / BAG-HOUSE EMISSION MONITORING.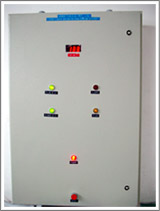 Stack Monitoring for Suspended Particulate Matter (S.P.M.) is greatly simplified and improved by the use of "CONTINUOUS EMISSION MONITORING SYSTEMS (CEMS) / STACK MONITORS/DUST MONITORS". The Sensor of the CEMS / Stack Monitor/ Dust Monitor is mounted on the stack / duct and the existing S.P.M. level is determined using Thimble / Iso-Kinetic Process. The CEMS / Stack Monitor/ Dust Monitor is then calibrated to continuously display the S.P.M. or Emission level in terms of mg/nm3 in an on-line manner. A 4 to 20 mA DC Analog Output is also provided for recording or control purposes & integration with the Central Control Room.
The Continuous Emission Monitoring Systems (CEMS) / Stack Monitors/ Dust Monitors are indigenously manufactured and based on the internationally accepted & widely approved "TRIBOFLOW" principle. These instruments give a CONTINUOUS display in mg/nm3 of the emissions / suspended particulate matter in the stacks / ducts / chimneys which are being monitored. The instrument readings will closely match those you obtain by iso-kinetic / thimble process measurement.
What is "TRIBOFLOW" ?
The Triboflow principle is an impact principle where a Sensor is placed in the path of the emissions which are to be monitored. As the emission particles come in contact with the Sensor, a Triboflow signal is generated which is proportional to the emissions. This principle works only for Solid particles. Since this principle is not affected by Liquid or Gas particles, it is particularly suitable for emission or stack monitoring.
TRIBOFLOW PRINCIPLE has been internationally and universally approved by several Environment Agencies including USA (EPA i.e. Environment Protection Agency) and Germany.
The Basic Operation of the CEMS is as follows :
The CEMS is highly accurate and reliable. It consists of a Sensor with shielded cable and a remote Electronic Control Unit. The Sensor is a 316 stainless steel rod with Teflon Insulator. The Sensor is installed in the duct / stack where the emission particles are to be monitored / measured, as shown in Figure 1. As the particles flow in the duct / stack and strike the Sensor, a Tribo-electric current and a Tribo-electric voltage are generated. These signals are then conditioned, amplified & processed through sophisticated electronic circuitry and micro-processors and an Output Signal is generated which is directly proportional to the emissions flowing in the duct / stack.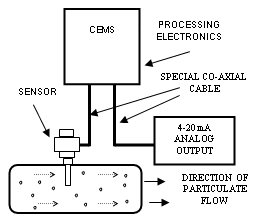 KEY FEATURES OF THE CEMS
Accurate and Reliable Readings, directly in mg/nm3.
Facility to display instantaneous emissions as well as average emissions.
Time period for averaging emissions is user determined.
4-20mA Output available for interface with Central Control Room Systems for Charting / Tabulating / Recording etc.
User Determined Alarm Set Points to indicate high emissions.
Minimal Maintenance Required.
No Moving Parts or Consumables.
Long Life of Instrument.
Frequent calibration / setting / alignment is not required.
Easy to use and operate.
Sophisticated since it is micro-processor based.
Not affected by Moisture.
Low Cost and High Quality.
TRIBOFLOW BASED CONTINUOUS EMMISSION MONITORS / STACK MONITORS :-
Used for Continuous Stack Emission Monitoring, Monitoring ESP Efficiency, Bag House Emission Monitoring & Preventing Damage to Downstream Equipment etc.
Why Shree Tecs
The Pollution Control Board has made it mandatory to install Continuous Emission Monitoring Equipment in all stacks. Our equipments will not only help you in ensuring compliance with Pollution Control norms and better environment conditions; they will also result in financial gains resulting out of better production management, lower power consumption due to more efficient plant operations, more controlled product wastage into the atmosphere and longer life for downstream equipments.
We are the only company in India which is manufacturing these products totally indigenously. Hence we have a significant price advantage over our competitors, along with good and competent after sales service and extremely reasonably priced spare-parts. It is due to these advantages that our customer list includes nearly all top companies from all process industries.
Our Continuous Emission Monitoring Systems (CEMS) / Stack Monitors give a CONTINUOUS display in mg/nm3 of the emissions / suspended particulate matter in the stacks which are being monitored. The instrument has a digital display and the readings will be equal to those you obtain by iso-kinetic process measurement.
Our prices are atleast 40-50% lower as compared to that of the lowest priced products from our competition. Feature-wise, we are equal to the best among our competition since our CEMS are based on Micro-processor technology. In fact, we have several features which no other supplier in India can provide.
Our customer base is also very diversified and they have been placing repeat orders on us on a regular basis. This proves that our instruments have been working successfully since last several years and that they are satisfied with the performance of our instruments. Kindly find below a brief summary of the various industries which we are currently supplying to :-
STEEL - Our customers include several well known companies who are currently using our CEMS & placing repeat orders also. We have installed in all possible steel plant areas – Sinter Plant, Coke Oven, HBI, Blast Furnace, Power Plant, Lime Calcining Plant, Raw Material Plant etc. They are -
Essar Steel, Hazira (MORE THAN 20 INSTRUMENTS)
Steel Authority of India (All Plants – Bokaro, Durgapur, Bhilai, Rourkela),
TISCO (Tata Steel)
Jindal Steel & Power
MECON / IOL (Kota) / IMECO
Usha Martin, Ramsarup, Brahmaputra Alloys, Raipur Steel, OCL, Ramsarup Industries, Modern Steel, Shah Alloys, Rungta Mines, B S Sponge, Tata Metalliks and many others
CEMENT - Our customer list includes several well known Cement Companies like :-
Gujarat Ambuja Cements
Birla Corporation - Chittaurgarh
Gujarat Siddhee Cements
Madras Cements is using our CEMS in all their plants & Dalmia Cements.
POWER - Our Customer list includes several well know Power Companies like :-
Neyvelli Thermal Power Station is one our largest customers and we have more than 30 CEMS working in their power plants. They have been our customers since last 10 years.
National Thermal Power Station
NTPC – SAIL (NSPCL)
Calcutta Electric Supply Co. (CESC)
Maharashtra State Electricity Board.
PHARMA - All major pharma companies, without exception, are our customers and place repeat orders on a regular basis on us. Eg. Ranbaxy, Cipla, Dr. Reddy, USV, Aurobindo, Lupin, Indoco etc.
The fact that we are receiving repeat orders from our customers in all industries like Cement, Power, Steel etc. is proof of our equipment. I can arrange to send you copies of their latest purchase orders in case you so desire. I can also provide references with telephone numbers of senior people who will confirm that our instruments are working satisfactorily.
In the recent seminar in Delhi, help by CMA (Cement Manufacturers Association) and CPCB (Central Pollution Control Board), they collected feedback from all cement plants on the working of the CEMS, and we are pleased to state that all our customers have given a positive feedback for our CEMS. I can send you a copy of the report for your kind reference if you so desire.
We also wish to inform you that the technology on which our instrument is based – TRIBOFLOW PRINCIPLE has been approved by several Environment Agencies of developed countries like USA (US – EPA i.e. Environment Protection Agency) and Germany. This technology is being used world-wide and has several advantages over the "Opacity" Technology.
Details of Continuous Online Monitoring Systems :-
Sensor

:

Material of Construction – 316 SS,




:

Diameter – 14mm




:

Insertion Length – Upto 1500 mm




:

Cable Length – Upto 100 metres

Stack Temperature : Upto 450 Degrees Celcius
Measuring Range : Upto 1000 mg/nm3
Accuracy : Plus / Minus 1 to 3% of Full Scale Reading
ECU Power Supply : 230V AC, 50 Hz, 1 Phase OR 110V AC
Power Consumption : Max 50VA
Output Signal : Digital Display, I N.O. / N.C. Potential Free Contact, 4-20mA & 0-10V DC.
Feature to display Minimum & Maximum Emission with Time of Occurrence.
Variable Damping Facility available.
Averaging Facility available to display average emissions (time period for averaging can be decided by the user.
Instantaneous Emissions Display also available.
Pair of Flanges for Sensor Installation
Test & Calibration Certificates will be provided.
Make : Shree Tecs Pvt. Ltd.
Micro-controller based system.
ISO Quality Certification & TUV Product Certification
Terms & Conditions
Taxes

:

2 % C.S.T. OR VAT at the Applicable Rate
Excise Duty Extra at the Applicable Rate
Any other Taxes or Levies applicable will be borne by you.

Price Validity

:

Sixty Days from the date of offer.

Payment Terms


:

100% against proforma invoice for Material (since these are custom designed instruments).
Within 7 days of submission of bill for Services.

Transportation

:

To be borne by you – At actuals. Equipment will be sent through your approved transporter.

Delivery

:

4 to 6 weeks from date of receipt of technically complete order.


Packing &
Forwarding

:

2% of the value of the equipment


Installation of the
System at the
Chimney / Stack


:

Installation can be done by you, as per installation instructions and drawings which will be provided by us along with the Supply.
Installation will require the following to be done by you :-

Creation, Fabrication, Welding & Fixing of Flanges for the Sensors.
Making of Earth Pit.
Cabling & Conduiting between Sensor Location, Control Room & Earth Pit. 1 inch diameter GI Pipe conduiting. GI Wire also needs to be fixed between Control Room to Earth Pit and Sensor Location to Earth Pit.
Main Electronic Panel Installation at Control Room & Power Supply Connection between nearest Power Supply Point to the Control Room.
Cabling of 4-20mA Output Copper Wire between Control Room and the Central Control Room of Plant.

Drawings & installation instructions will be sent with the Supply.

Commissioning of
the System

:

Commissioning Charges charges will be Rs. XXXXX per day + Service Tax @ 12.36% and this will be extra. Usually 2 days per instrument are required. Supervision of Installation can also be provided at the same rate.

For Commissioning and Calibrating the instrument, Iso-kinetic Sampling will have to be carried out at site. 4 to 6 tests may need to be carried out to accurately calibrate the instrument. The Iso-kinetic tests are to be carried out by you.

Maintenance of
the System

:

To be carried out by you on regular basis. The Sensor needs to be cleaned regularly (once in 90 to 120 days or earlier depending upon site conditions).


Training

:

Training for your 2 x personnel during commissioning free of cost.

Warranty

:

12 months from date of Supply.
The instruments readings can be directly sent to the Pollution Control Board, if required, on an online or regular basis. A Data Logger can be supplied by us, (at an extra cost of Rs. XXXXXX), to make this possible. This cost will include a 8-Channel Data Logger (which can connect upto 8 different instruments measuring any parameter). It will also include the required software to send the readings to the Pollution Control Board, in the required format.
We are the only company in India who is manufacturing this instrument indigenously. You can thus be sure of lower costs, better after sales service and also our spare parts are reasonable priced and easily available. We have installed our instruments in several industries - Steel Plants, Power Plants, Cement Plants, Pharmaceutical & Petro-Chemical Plants etc. for last 12 years & they are working effectively till date.